---
Click on the here to Enter for Falsebay 50km
Kleimond (Jukskei Club) Sunday 22 May 2022 06:30 
The Strand Athletics Club, with the assistance of the Hangklip Athletics Club are proud to, again, present the iconic point to point race from Kleinmond to Gordon's Bay along the scenic coastal road past Betties Bay, Pringle Bay, Rooi Els and Kogel Bay.
Sponsors:
Thank you to our presenting sponsors:
HML Transport Consultants (www.hmltc.co.za) and Afrihost Mobile.
as well as for the additional logistic and registration assistance from:
ElJoSa Travel and Tour; FinishTime; Entry Ninja; Sportsman's Warehouse; Coca Cola
Organisers: BMEv.
Registration:
Online entries, only. Enter at www.entryninja.com. Should you have any enquiries please contact Entry Ninja on 087 012 5044 or email support@entryninja.com. Closing date for entries is Wednesday, 11 May 2022. Please note if payment is not received within 7 days of entry, your entry will be deleted.
Race Capacity:
The race entries are capped at the first 1500 entries received.
All finishers will receive a unique medal.
Permanent race numbers will (in future) be allocated to athletes who successfully complete 10 False Bay 50 races. The first 5 races that took place in 2001-2005 will be included.
Entry Fees:
| | |
| --- | --- |
| False Bay 50 km Run/Walk (licensed) | R260 |
| False Bay 50 km Run/Walk (Unlicensed) | R340 |
| False Bay 50 km Run/Walk (licensed)70+ | Free |
A 9% service fee is charged with the online entry.
Covid form, bus ticket and number collections:
Number collection will take place on Saturday, 21 May, from 10 am till 4 pm at the following venues:
| | | | |
| --- | --- | --- | --- |
| Sportmans Warehouse Rondebosch | SportmansWarehouse Somerset West | Sportsmans Warehouse Tygervalley | Jukskei Club Kleinmond |
**Final Instructions will be SMSed to each athlete.
Please bring proof of payment of your entry or SMS confirmation with you to the number collection at the store you selected on your entry form.
Covid forms are to be collected at these venues and handed in at the start, where a temperature check will be done, or when getting on the bus, if using this service.
Sponsored collapsible cups can also be picked up at the registration.
Bus Transport and Tickets:
We are using ElJoSa Travel and Tour. www.eljosa.co.za
Parking is provided at the Naval base sport facilities, across from the finish, at Gordon's Bay Primary school, for those traveling by luxury bus from Gordon's Bay to the start in Kleinmond. It is a provision from Western Cape Traffic that NO cars will be allowed to travel along the course with athletes. Athletes using private transport, will have to have their drivers travel back to Gordon's Bay along the N2 over Sir Lowry's Pass.
Bus tickets will be available at R98.00 when entering, online, for the race.
Buses will start leaving for the start from 04h00.
Please move towards the waiting buses immediately after you arrived at the parking area.
Please don't be late, and don't forget your bus ticket. The last bus will depart at 05h00.
Unfortunately, there will be no buses traveling back from Gordon's Bay to Kleinmond.
Start and finish access:
RUNNERS ONLY: Only runners wearing a valid 2022 False Bay 50 race number will be given access to the start and finish areas. Unfortunately, due to COVID restrictions no spectators will be allowed.
Charity:
As part of our policy of community health upliftment, the Strand Athletics Club is happy to endorse Vitanova in its drive to recruit Tissue & Organ Donors.
Please consider the following before completing your entry:
Tissue & Organ Donation Saves Lives. You can make a difference by registering as a Tissue & Organ Donor by clicking on the link:
There is no cost involved and it won't take more than a minute to complete.
Timing:
Your FinishTime (https://finishtime.co.za) timing chip is attached to your race number. Please do not fold your race number or cover it with straps from hydration packs as it will damage the chip. IMPORTANT! NO CHIP NO RESULT.
Secure Tog Bag Facility:
The Tog Bag facility will be at the start. Your bag will be labelled.
Water Points:
In order to reduce plastic waste and litter, this event will include the "carry your own" protocols, but where there will still be some water sachet allocations at some of the 13 water / coke (in cups) stations, along the course. A sponsored collapsible cup will be given to each runner at the registration, for use, especially, during the second half of the race.
At 6 and 16km sachet water will be provided. At 11 and 21km coke in cups and sachet water. At 26 Km water will be provided in a refill format (flow-bin) for filling up camelback hydration systems and collapsible cups. From 30km till the end, every 3km will have coke in cups and refilling of hydration packs or collapsible cups with water. The use of your own collapsible cup or water bottle, will contribute to reducing the litter produced by the event, especially over the second half of the race.
Road Closure and Cut-Offs:
Temporary road closures will occur for vehicles travelling from Gordon's Bay to Rooi Els. But not from Rooi Els to Gordon's Bay.
Unfortunately, no spectators will be allowed on route.
A sweep bus will be following the back runners and will be collecting runners from the cut-off points. Runners may not continue after a cut-off has been implemented.
Cut-off points: 25km – 3h15; 38km – 5h. Time limit is 6h30
Comrades Qualifier:
The Comrades Marathon Association has approved the False Bay 50 as a Comrades Qualifier – the race must be completed in under 5h50.
Medical:
Gordon's Bay security are the event's official medical partners. There will be a roaming ambulance along the route and one, at the end.
Prize Money Structure:
In addition to overall (open) prizes, participants will only be eligible for an age category prize in the age they enter. Corresponding numerical age category tags must be worn on the front and back of their vest.
| | | | |
| --- | --- | --- | --- |
| 50 KM | MALE & FEMALE | | |
| | 1ST | 2ND | 3RD |
| OPEN | 2000 | 1500 | 1000 |
| 40-49 | 1000 | 800 | 600 |
| 50-59 | 1000 | 800 | 600 |
| 60-69 | 1000 | 800 | 600 |
| 70+ | 600 | 500 | 300 |
| | | | |
Award winners will be verified by Race Referees via the FinishTime electronic timing system, based on Gun to Mat time.
There will be no official prize giving and prize money will be deposited into category winner's bank accounts.
Rules:
The races will be run according to the rules of Boland, WPA, ASA and WA (IAAF). No seconding will be allowed.
Age restriction: 18 Years
No personal music devices with headphones allowed
No littering allowed more than 30m away from the watering points (Runners will be disqualified when caught littering)
Let's keep our beautiful country clean.
All participants must wear a suitable face mask on arrival at the venue. No person will be permitted to enter the demarcated areas without a face mask. The mask must be worn on board the buses as well as the start & finish areas. The mask may be removed during the run only but must be replaced at the Finish. Your mask should be placed in the Ziplock bag provided at the registration venues.
Athletes, entering for this event, and who use medication to treat an illness or condition which falls under the Prohibited List, should complete a Therapeutic Use Exemption (TUE) form before entering for the event and obtain authorization from SAIDS to take the needed medicine or method.
Registered athletes should wear full club colours. You do not need to be a member of a registered club, any individual can enter and run as an unlicensed athlete, however, you are required to purchase a temporary license. Temporary numbers must be worn on the back of the vest.
Licensed athletes license-numbers must be worn on the front and back of the vest. Official Race numbers must be worn on the front of the vest, below the top part of the ASA licence.
Indemnity:
I agree to enter and participate in the False Bay 50KM race entirely on my own risk and indemnify the organisers, sponsors, WPA, Athletics South Africa, the municipal authorities and any person assisting in the organisation of the race against any claim whatsoever. I understand that I should be medically fit to run this race. I declare that I am 18 years and older.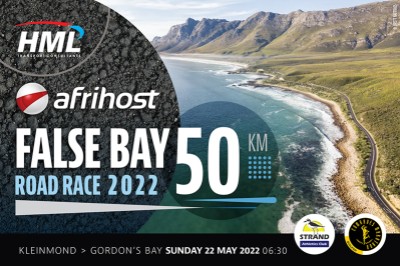 ---
---
Quick menu
Event information » Classes and pricing »Venue »
Pricing guide
| Class | Price (pp) |
| --- | --- |
| 50km | R 260.00 + 23.62 |
| 50km (70+) | Free |
---
Classes and pricing
Available classes for the event
| Class | Distance | Start Time | Price (pp) |
| --- | --- | --- | --- |
| 50km | 50 km | 06:30 | R 260.00 + 23.62 |
| 50km (70+) | 50 km | 06:30 | Free |
---
Event location
Gordon's Bay Primary School, Kleinmond to Gordon's Bay
| | |
| --- | --- |
| Route information | |
| Coordinates | -34.1563077, 18.8740325 |
| Address | c/o Blue Gum ave & Avondrus str, Gordon's Bay |
| City | Kleinmond to Gordon's Bay |
| Province | Western Cape |